The One Cup Project: US Coffee & One Cup Coffee Join Forces For Corporate Social Responsibility Program
The One Cup Project: US Coffee & One Cup Coffee Join Forces For Corporate Social Responsibility Program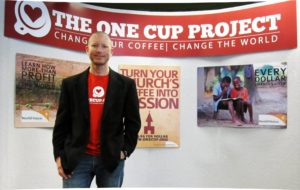 US Coffee is proud to announce a partnership with One Cup Coffee to deliver coffee to your office that's not only socially responsible, but also delicious. By supplying your office with artisan roasted, fairly traded and award winning coffee that also gives back, it's a win-win.
The product of our partnership is the One Cup Project, which gives participating offices a turn-key Corporate Social Responsibility program that will make you feel good about sipping your coffee every day.A portion of the One Cup Project's profits go to local and global charities, so every dollar that One Cup Coffee receives from your company's coffee purchases turns into a dollar of impact for social good. Start making a difference in the world, one cup at a time by drinking the highest quality, locally sourced beans, often from farmers they have personal relationships with.
Supply your office with whole bean, espresso, drip, french press or cold brew grinds with various blends like an exotic African, South American, and Indonesian blend like Tye City or a blend with a hint of hazelnut with chocolate and fragrant orange notes like Great Northern. With eight unique and decadent flavors to choose from, your office will surely be satisfied.
The One Cup Project is perfectly aligned with today's statistics about the workforce and their desire to be socially responsible. Considering 80% of young employees want to work for a company that cares about how it impacts and contributes to society and 88% of consumers think companies should try to achieve their business goals while improving society and the environment, this initiative is the perfect way to stock your office with coffee while simultaneously doing good.