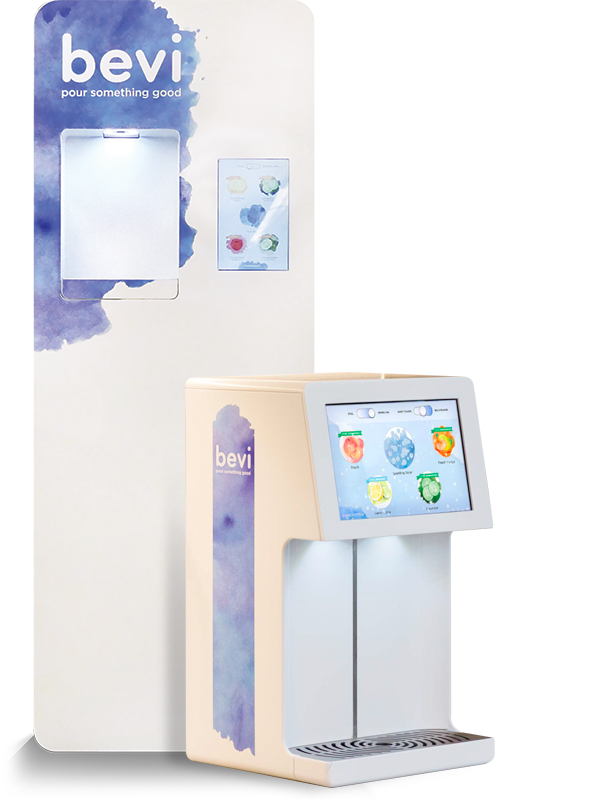 Introducing Bevi, the industry's firstInternet-connected smart water cooler. Now Available with Touchless Smart Phone Controlled Technology to Help Keep Your Office Safe & Sanitary.
The Bevi water system is an Internet-connected kiosk machine that dispenses customized drinks using tap water. On a touchscreen interface, you can select still or sparkling water, with a choice of flavors like orange mango, grapefruit, and pomegranate. Mix and match a variety of naturally flavored or organic flavors, or keep it simple with sparkling or plain filtered water. The choice is yours!
Bevi comes in two different sizes to fit every unique space. The flagship floor-standing unit, Standup Bevi is the perfect addition to your fully stocked kitchen. Occupying only 4 square feet of floor space, the Standup Bevi is an eye-catching way to keep everyone healthy and hydrated. Countertop Bevi's hidden beauty lies in the fact that its plumbing and hardware are integrated into your kitchen's base cabinets, leaving only the sleek, compact dispensing unit visible on the countertop.
Why should you consider a Bevi system for your office?
Complete Customization.
Starting with great-tasting filtered water, Bevi lets you customize your drink with a variety of creative and delicious flavorings. You can even brand your Bevi machine with your company logo.
Automatic Restocking.
Your Bevi is connected to the Internet, so our service team will proactively keep the machines stocked with your favorite flavors. Give your busy office manager one less thing to worry about!
Health + Hydration.
Choose from a variety of zero calorie, low calorie & sweetened flavors, or just enjoy pure filtered water. Bevi never uses high fructose corn syrup, and strives to promote a wellness enviornment at the workplace.
Sustainable Solution.
With Bevi, your office can eliminate waste from the production, transportation, and disposal of water bottles. Bevi machines save 924,808 bottles a day from landfill. It's an easy way to make your office greener.
Choose from a wide variety of flavors, available in still or sparkling water form.
Peach White Tea + Caffeine
Experience a more exciting way to hydrate in the office.
Interested in the Bevi Smart Water Cooler? Contact us today!
This is a full width text block. Click the edit button to change this text.