Troubleshoot Your Nespresso Brewer in the Office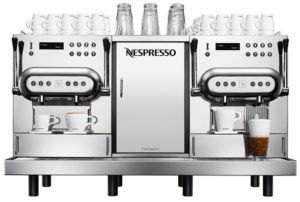 There's nothing worse than a brewer malfunction when in need of caffeine at the office. When using a Nespresso brewer, however, it's usually possible to fix the problem yourself. There are a few different types of issues you might be experiencing when your Nespresso brewer isn't working, such as your pods getting stuck or falling through. Instead of spending money on buying a new machine, try troubleshooting the problem first and find out if it's something that's able to be fixed. Below are some scenarios for Nespresso brewer issues and how to troubleshoot them.
'Waste Container Full' Error
Upon seeing this error, empty out the drip tray in the sink, pull out the waste container from the space behind the drip tray and empty the waste container in the trash. Return both the drip tray and waste container to their original positions and try again.
Only Water Comes Out
If only water is coming out, adjust the pod so that it's inserted with flat edges. If the pod's edges are bent or curved, it needs to be repositioned for the pod line up correctly and brew.
Pod Gets Stuck
If you pull the handle down and the pod appears to be stuck, it's likely that the waste container is full.  Empty the container by pulling it out from the space behind the drip tray and place it in the trash.
Leakage in Capsule Area
If there's leakage in the capsule area, it might be time to clean out the capsule holder. It's also possible that the capsule itself isn't inserted correctly, so try repositioning it so that it fits correctly.
Milk Won't Froth
If using a Nespresso brewer that makes cappuccinos and lattes, sometimes the milk stops frothing. In this case, clean the frothing device or switch to skim milk for a thicker froth.
Experience the luxury of cafe-style drinks without ever leaving the office thanks to Nespresso. To try any of US Coffee's Nespresso brewers for free, all you have to do is fill out a contact form, and one of our dedicated sales managers with get in touch with you. Contact us for a free trial.