Introducing TopBrewer. Smart, Connected and Simply Revolutionary.
Scanomat has reimagined the traditional bean-to-cup coffee machine with its innovative under-counter design, stylish swan-neck tap and app-control technology. They've reinvented the traditional coffee experience to bring workplaces a totally unique, state-of the-art solution at the cutting-edge of coffee brewing technology and, ultimately, the internet of things. The beautiful Danish design is built for architecture and effortlessly complements an array of spaces across a range of sectors – from workplace to hospitality to retail.
A coffee experience unlike any other
Designed to meet the needs of today's coffee enthusiast, the TopBrewer will seamlessly integrate into any environment to deliver a variety of drinks with an incredible taste & quality, at the touch of the TopBrewer app. At the start of each day, simply refill the coffee beans and fresh milk and the TopBrewer is ready to go in just 45 seconds.
Sleek, Innovative Design that Fits Elegantly in Any Environment
With amazing flexibility, stunning design, and freshly brewed coffee on tap, the TopBrewer creates an office coffee experience like no other.
Offer your guests a truly personalised barista-quality coffee experience like no other. Ideal for self-serve or barista service.
The TopBrewer is a game changer, changing the way we think about coffee in the retail space… connect, customise, brew.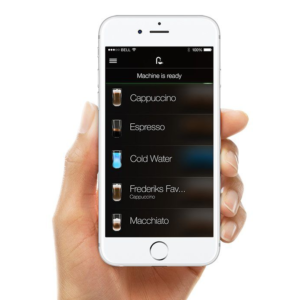 Customized beverages at the tap of an app
TopBrewer delivers premium coffee quality beyond a barista with a new innovative & instinctive user experience that is seamlessly integrated into any environment. Introducing an App to the coffee world gave us the freedom to create something different – to make our dreams become reality. Enjoy it while working, relaxing or anything in between. Best of all, TopBrewer is both iOS and Android friendly. Using an Apple Watch® or smartphone you can select your favorite specialty coffee beverage with a single click by hitting the QuickBrew button. Alternatively you can quickly scroll through the complete menu and chose whatever takes your fancy.
CoffeeCloud, powered by TopBrewer. The Internet of Coffee is Here.
CoffeeCloud is the worlds most advanced IoT cloud management system for coffee machines, with state-of-the-art realtime data to enhance your coffee business.
Notifications
With notifications you can trigger to send an email when certain events occurs. Create your own business rules, and become pro-active within your organization.
Real-Time
CoffeeCloud is truly a realtime system. This means that data get's pushed out lightning fast within a second so you'll always be aware of situations whilst they occur.
Insights
With insights you are essentially using CoffeeCloud's own business intelligence tool to get the specific data you need. It's all in the details.
Secure Data
CoffeeCloud takes data extremely seriously. Your company's security and privacy is the first priority. It uses latest encryption and certification standards.
Interested in a TopBrewer for your workplace? Contact us today!