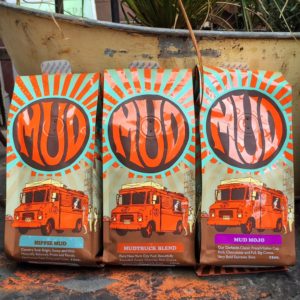 Mud Coffee is a NYC-based coffee company that originated by selling its very own blend out of a step-van known as the Mudtruck. Founded in 2001 by husband and wife Greg Northrop and Nina Barott, Mud Coffee is known for their unique coffee blends and locally oriented approach to roasting.
In addition to their Mudtruck, Mud Coffee also has a cafe called Mudspot and small coffee stand called Mudpark – all based in New York City. US Coffee carries Mud Coffee's famous Mudtruck Blend, known to wake up thousands of New Yorkers each and every morning. It's a beautifully rounded roast with a hint of sweet cherries and rich cocoa. We're proud to be one of the only coffee services to carry Mud Coffee. Our Mud Coffee is roasted and delivered within 48 hours so you get the most quality-driven coffee product on the market. Mud Coffee was named in honor of Northrop's Italian grandmother, who was known for calling her coffee mud.
Through the US Coffee Reserve Program, you're getting locally roasted coffee like Counter Culture that's roasted, bagged and delivered within 24-48 hours. You don't get any fresher than that. Be the office hero and treat your office to the finest tasting coffee. We guarantee your employees will notice the difference.