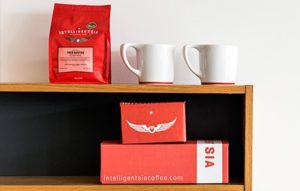 Intelligentsia was founded in 1995 and since then has evolved considerably. They are now based in three cities: New York, Los Angeles and Chicago. They're dedicated to sourcing, developing, roasting and delivering the best coffee in the world.
Intelligentsia's buying team cumulatively spends over 365 days each year at source. They develop coffees while working alongside their growers, who are 100% dedicated to sustainable and social practices. Intelligentsia's roasters unlock the unique flavors in fresh coffee beans to achieve a delicate, balanced cup of coffee that showcases all the potential flavors the product has to offer.
When buying Intelligentsia coffee, know you're getting single-origin coffee sourced from some of the most celebrated, family-owned farms and smallholder co-ops and estates from around the world. Each Intelligentsia blend offers a distinctive flavor profile. Their blends are carefully tested cup after cup for adherence to our uncompromising standards. If decaf coffee is your preference, Intelligentsia decaffeinates their coffee through a chemical-free, mountain water process.
Since coffees from any origin don't stay fresh year round, Intelligentsia coffee is brewed at their peak sweetness. Intelligentsia In Season™ means that our coffees are offered only while they still retain the vibrancy nature and producer intended.
Through the US Coffee Reserve Program, you're getting locally roasted coffee like Intelligentsia that's roasted, bagged and delivered within 24-48 hours. You don't get any fresher than that. Be the office hero and treat your office to the finest tasting coffee. We guarantee your employees will notice the difference.